Forward Forever News - Issue #5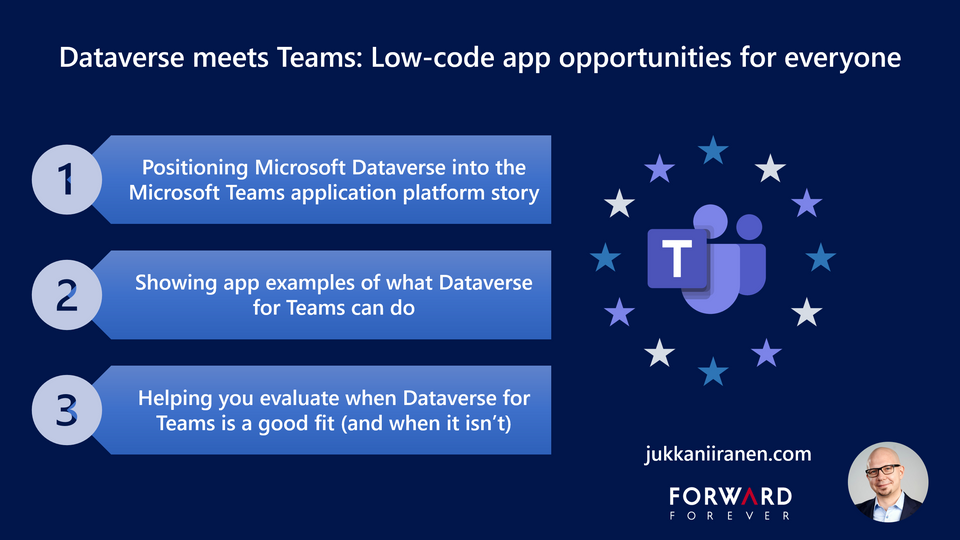 In-person events are starting to return in the Power Platform community. Even though the pandemic hasn't disappeared from the face of the earth, at least there are now more opportunities for members of the community to meet each other through other means than Teams or Zoom...
The European Power Platform Conference 2022 (#EPPC22) has kicked off today in Berlin and FF team members Antti Pajunen and Timo Pertilä both have sessions at the event. If you're attending the live event, try to spot our low-code ambassadors on the ground and come to say "Hi"!
Yesterday when launching the 2022 Release Wave 1 for Business Applications, MS announced that in September there will be the first annual Microsoft Power Platform Conference in Orlando. For those who are looking for community events on the other side of the Atlantic Ocean, mark your calendars for the first annual Nordic Summit on September 24th.
Latest posts on FF blog
How to enhance the user experience of a Model-driven Power App by leveraging the new custom pages and custom command bar buttons.
There are several ways how the concept of a group is used in Power Platform services. Many users and admins may be familiar with some…
The post How groups & teams work in Power Apps & Dataverse appeared first on Forward Forever.
Hilla shows how to align the UI of your Power Apps canvas app with the company's branding guidelines with 5 practical tips.
Using Azure AD / Microsoft 365 groups and Microsoft Teams to manage access to Power Platform environments, apps and data.
How to move a solution that uses SharePoint from one environment to another, without modifying your Power Apps and Flows each time.
FF team members' personal posts
Exploring Dataverse for Teams opportunities for low-code app makers. How to position Dataverse for the Microsoft Teams user audience & limits to keep in mind.
Migrating Project for the web projects from the default environment is a question Antti gets asked every now and then. Here's how the process could be orchestrated by using Power Automate cloud flows.
Instead of adding time entries one-by-one via Quick Create, you can simulate a more traditional timesheet experience in Project Operations. Antti illustrates the steps for how to build such a feature with custom logic powered by Power Automate cloud flows.
Best of Power Platform community
Dani Kahil has produced yet another cheatsheet PDF packed full of useful details. This time the focus is on what you need to know about Dataverse specific syntax and tricks when defining triggers and actions in Power Automate cloud flows.
Scott Sewell explains the benefits of this modern replacement for Data Export Service (DES) and shows how to simplify the report builder experience by providing custom views to filter out unnecessary columns and inactive Dataverse records.
Linn Zaw Win has discovered a setting that makes it possible to simplify the experience of opening records from a view. If lookup columns in the view have ever taken you accidentally to the wrong record, try this option in the new Power Apps Read-Only Grid control.
Vivek Bavishi has launched a GitHub project for a canvas app that enables Dataverse admins to easily manage users/teams/security roles/apps and perform some repetitive tasks more efficiently.
FF news
Highlight from our team's App Gallery: how to use Power Apps and Microsoft Teams chat messages with Adaptive Cards to manage the process for security anomaly reporting. Built on top of Dataverse for Teams.
Catch us in these events
The Finnish Power Platform UG will have these 2 sessions in the April Meetup: 1) Tomasz Poszytek, Power Automate Approvals and Adaptive Cards. 2) Jukka Niiranen, Dataverse for Teams (encrypted in Finnish😁).
Mark your calendars for a visit to Stockholm, Sweden in September! This community event is sure to draw in a great MS BizApps crowd across all the Nordic countries. If you're interested in presenting there (we sure are!) then the Call for Papers (CfP) is now open here.