Forward Forever News - Issue #7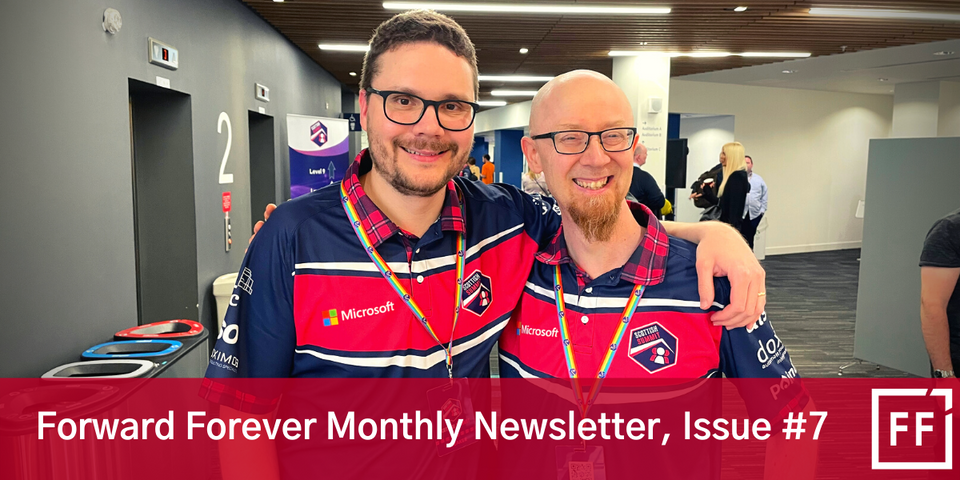 It's been a busy month at Forward Forever! In addition to meeting many awesome Power Platform community members at the Scottish Summit 2022, we've got two exciting announcements of new FF team members for you 👨‍💼👨‍💻.
Not only is the team growing, we have also launched our training courses for Power Platform Fundamentals and Dynamics 365 Project Operations Power Users. Check out the dates & sign up to reserve your seat 📅.
Thanks to Timo Pertilä, all #PowerAddicts in Finland can now use two connectors for their apps and flows right from the connector catalog: 1) Finnish Business Information System (YTJ) 🏢 and 2) Finnish Railway Traffic 🚉.
In our blog you can learn how Fusion Development is bringing pro-code & low-code together 👨🏾‍🤝‍👨🏻, why FetchXML makes your flow queries more powerful 🏋️‍♀️, and how Power BI activity log data can be retrieved via Power Automate 📊.
Announcements
Olli Korpelainen is starting as the new CEO of Forward Forever in June 2022, driving the growth of our team in this next stage of our Power Platform journey.
Latest posts on FF blog
How the Power Platform announcements from a pro-dev conference illustrate the future of fusion development with maturing low-code tools for all developers.
Use a cloud flow to retrieve Power BI report usage metrics & other activity log data, then store it to Azure Blob Storage for analysis purposes.
How to calculate sums with Power Automate when the data is stored in a SharePoint list?
Have you ever wondered what the mysterious "Fetch XML Query" feature on the Dataversen list rows action is? Here's how to create complex queries for Power Automate with the help of graphical tools that generate FetchXML for you.
FF team members' personal blogs
Using the "share with colleagues" feature to publish Teams based Power Apps into more than one team can be a bit tricky.
Timo's own list of the most exciting product news from Build 2022 conference for a low-code app developer: Power Pages, Express Design, RPA enhancements and more.
Best of Power Platform community
Power BI Datamarts are a huge new self-service capability that helps users to rapidly build and deploy databases for analytics purposes. To see all the key features in action, watch this 10 minute video from Guy in a Cube:
At Build 2022 Microsoft announced several new capabilities for Power Virtual Agents, such as the new bot authoring canvas and support for Power Fx formulas. The preview isn't yet publicly available but you can already see the new experiences live in this blog and video from Dian Taylor.
Kristine shows you can build a professional looking mobile menu in a canvas app by using a HTML control and SVG icons. Read this part 1 and subscribe to her blog for more UI and UX tips.
FF news
Virtual 1-day training session over Teams in a hands-on labs format course. The next available date is on June 30th, you still have time to get the fundamentals right before summer vacation!
Based in Porto, João has 14+ years of development and solution design experience with Power Platform projects that integrate with different technologies.
You can now use Power Apps & Automate to access data on Finnish organizations (YTJ) and train schedules via the connectors published by Timo Pertilä.
How we keep track of our growing database of devices used by our employees, with the help of Microsoft Dataverse and Power Apps.