Forward Forever News - Issue #9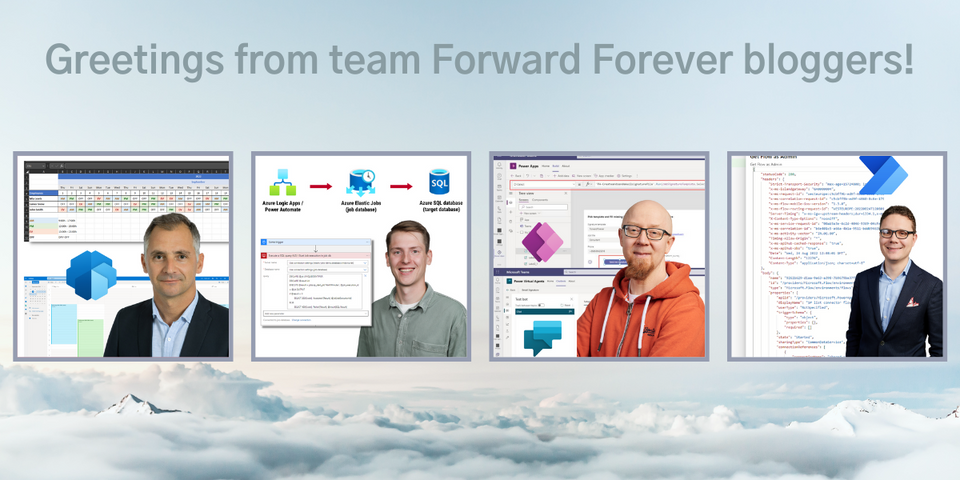 Our team has been working on quite a variety of Power Platform technologies recently, which can now been seen in the blog topics covered this month. We've got articles on:
🤖 AI Builder and table data extraction from images
✍🏼 Signature template management with Power Apps
⏱ Using long-running SQL Server stored procedures with flows
🔍 Retrieving all SharePoint site URLs referenced in cloud flows
📊 Accessing Power BI dataset contents from Power Automate
The community section focuses on governance frameworks, both for BI and low-code apps. In our Twitter highlights we've got tips related to Power Automate licensing, canvas apps preview features, Power Fx functions and Azure AD guest app makers.
Finally, if you're looking for audio material to include in your podcast playlists, check out MVPs Jukka Niiranen & Steve Mordue having a chat on the future of Power Platform.
Latest posts on FF blog
How to extract information from a picture of a table and transform it back into structured data that Power Automate can process one row at a time.
Usually no one knows where to find that email signature template. In practice, it's copied from an email sent by a colleague. Here's how Teams + Power Apps + Power Virtual Agents can help an organization better manage its email signatures.
Getting around the timeout limit of 110 seconds in the SQL Server connector is possible when leveraging Azure to manage the jobs.
How to get the detailed site URL for the SharePoint connection used in a Power Automate cloud flow by looking at the flow definition JSON.
Using Power Automate to query data from Power BI, then sending personalized summary emails with this data rendered in an HTML table.
FF team members' personal blogs
Microsoft MVPs Steve Mordue and Jukka Niiranen share their insights on where Power Platform is heading and why low-code is eating the world.
When building canvas apps that use Dataverse as a data source, you should keep in mind that there are actually two separate user objects to work with. Timo shows you how to easily reference the currently logged in use while avoiding dependencies to the Office 365 Users connector. (Translated from Finnish with Google)
Best of Power Platform community
Governance can mean many things and often different things to different people. In this article series I want talk about my view on Power BI governance and what I think you should be doing when it comes to governing your Power BI environment.
This blog sets the scene for good power platform governance, demonstrates what patterns need to be identified for good implementation, and what should be considered technically.
Highlights from Twitter
Events
Timo Pertilä will be presenting his session "how to build next level canvas Power Apps" at the in-person event in Stockholm.